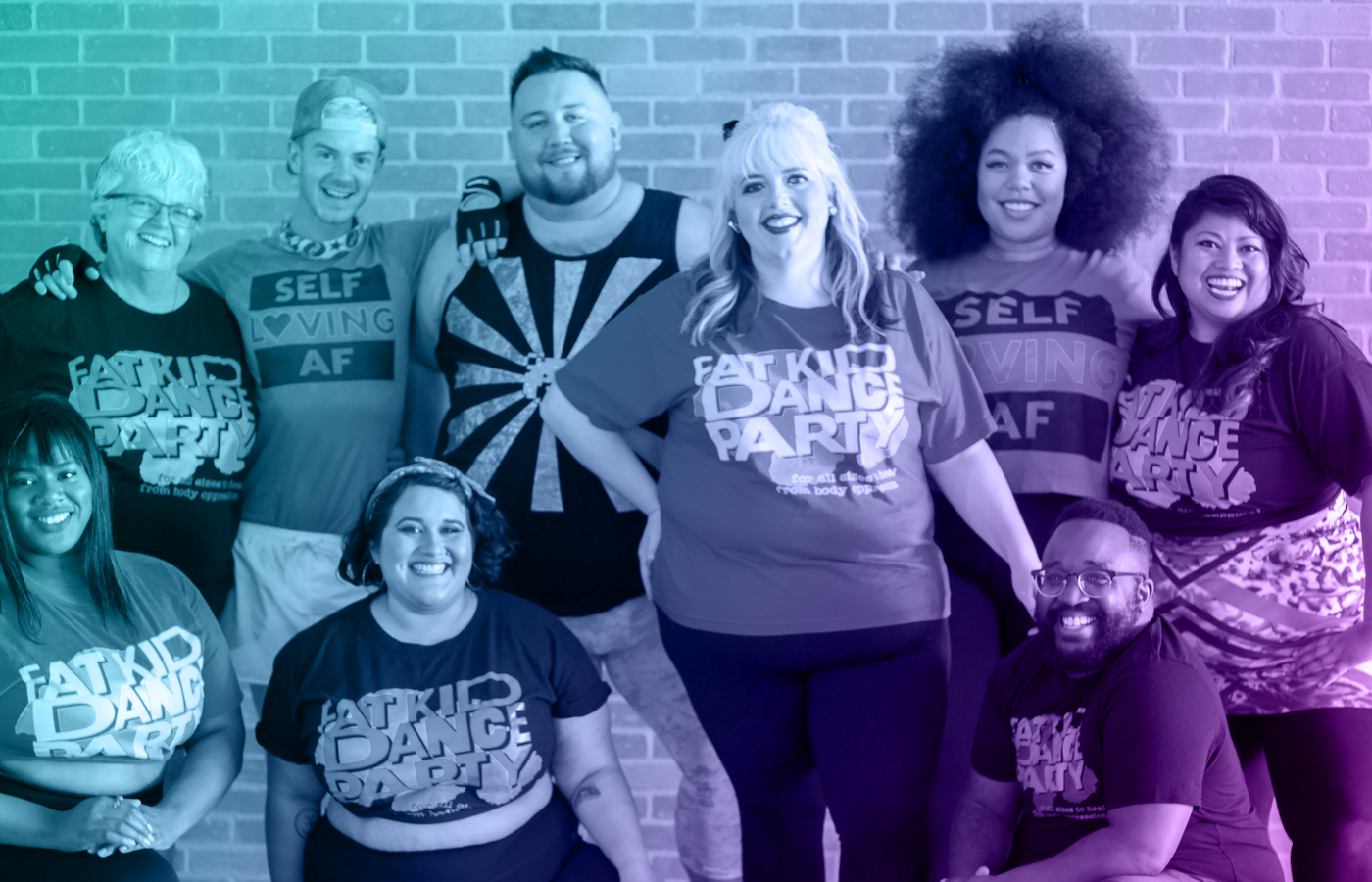 All the kids on the team!
Fat Kid Dance Party Aerobics (For ALL Sizes to Heal from Body Oppression) was created by me, Bevin, but has come to be what it is today through the hard work and generosity of a whole team. The supporters of the first FKDP aerobics video pre-sale enabled us to create a work of art, and the folks below have helped create many different aspects of this company. Logos, merch, touring, social media content, videos, press. Some are paid, some are volunteers who believe in the work, everyone goes above and beyond expectations to make this a true fitness revolution where all bodies are celebrated! Thank you for healing with me!
Xoxo,
Bevin
Marcy t
Hi! I'm Marcy and I am a full time TV producer! When Bevin told me about this video series I was dying to jump in and help! My days of doing Sweating to the Oldies with my grandmother came back to me. (My first job was also at Jazzercise, so I am an aerobics afficianado!). I hope you love what you see and hear and pass it on to someone who needs to know that things like Fat Kid Dance Party exist! If you want to follow my fashion, fitness and overall journey, you can find me online at @themarcyminute all over the webs.
Emily
Hi, my name is Emily Aguilar and I'm the director and producer for the Fat Kid Dance Party Workout Video series! When I first attended a FKDP class, I fell in love with the message "to love your body because your body is truly amazing, no matter what size." It's so easy to forget what our body and mind are capable of, and FKDP reminds us of that every time the music starts. From that day on, I knew I wanted to be a part of this movement full of love, encouragement and positive energy. Follow my journey on Instagram and Facebook @themomentem. :D
Jamie
Hi, I'm Jamie, and I had the superb honor of channeling my passion for 80s and 90s nostalgia into the FKDP logo and a few other graphic design projects! I'm queer, non-binary, extremely awkward in basically any way you can imagine, and I truly can't envision a better way to heal our relationships with our bodies than dancing and taking up space in situations we are typically expected to fade into the background. Bevin has created both the opportunity to practice nurturing your self-worth and the safe space to shuffle through discomfort, all while having fun. I am so excited to support this movement and for it to reach all of us who need it; also stoked to host Fat Kid Dance Party merch (along with my other work) at https://genuinevalentine.com/.
Drew
Yo! My name is Andrew Bahari Spencer, I'm busy being black usually, otherwise I'm a chef, loyal community member and friend. I hustle, promote, and throw my own brand of Special Sauce and rhythm on FKDP every chance I get. I love that people of all shapes and sizes have discovered and are jamming to FKDP. WE deserve to take up space, stand for the beauty that is the human form and declare body oppression officially cancelled ! You can find me and my food looking amazing @drewciferbahari on IG
Lauren
I'm Lauren Ross, music supervisor for FKDP! My role is to keep this party going by making sure we have the legal rights to use all the jams we dance to. I consistently feel empowered by Bevin's encouragement to embrace body positivity and self love, and am passionate about sharing that! Let's shift our world, ya'll! Stay in touch via socials at @LaLoumaLauren
Jes
Hey friends, I'm Jes Baker! A blogger, speaker, author, former mental health professional, ALL CAPS user and unabashed fat chick. After 25 years of not fully "living" my life because of learned body hatred, I discovered body liberation and I now spend most of my time writing, taking photos and helping others turn our society's concept of beauty on its oppressive head. When I'm not posing in my underwear or working towards a book deadline I love to bake, tinker with graphic design and pet cats.
I believe in body autonomy, self-love, mental health, strong coffee, and even stronger language. I basically stare at a screen, talk a lot and hug people for a living. It's a damn good life if I do say so myself!
Kristen
Hi I am Kristen, Fat Kid Dance Party regular and Bevin's assistant. I am so happy to be part of something so positive, uplifting, and healing. Fat Kid Dance Party has become part of my life, it allows me to feel free and it is helping me heal from past trauma. Follow me on my journey of self love Instagram: @kristenplus